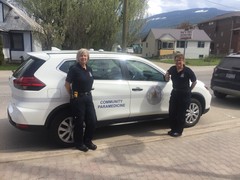 The Community Paramedicine Initiative is being implemented in a phased approach over a four-year period, with the goal of creating at least 80.00 full-time equivalent (FTE) community paramedicine positions.

The first phase began in April 2015 with the selection of nine prototype communities in the Northern, Interior, and Vancouver Island Health Authorities.

A provincial rollout began in April 2016 with the selection of an initial 76 rural and remote communities in the Northern, Interior, Island, Vancouver Coastal, and Fraser Health Authorities. Coverage extends to surrounding regions and neighbouring First Nations communities.

The final phase of implementation began January 4, 2018, with the posting of the balance of community paramedicine positions (22.84 FTEs). These positions included the introduction of rural advanced care community paramedics in larger communities, and the first full-time community paramedicine positions.

With this final phase, a total of 99 BC communities (PDF) have been selected for this program. 

For more information, email communityparamedicine@bcehs.ca.