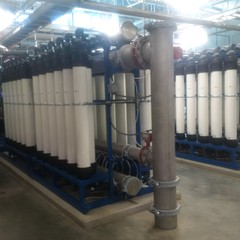 The District has a newly constructed water treatment plant that began full operations in December of 2015.
The plant uses an ultra-filtration membrane system, which has three trains for its first stage
(48 modules per train) and one train for the second stage (18 more modules) to remove waterborne parasites and particles.
The plant also adds sodium hypochlorite to the treated water to ensure the quality of the water.
The plant can supply 8.2 million liters of finished, treated water per day and accommodates a 20-year design horizon of 10 million liters/day.