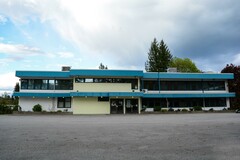 Sicamous Community Health Centre 
The Sicamous Community Health Centre, located at 217 Finlayson Street) offers primary care services for individuals and families in Sicamous. The SCHC is administered by the District of Sicamous and is staffed by three practising physicians who are supported by the Health Care Centre Manager and Medical Office Assistants. 
Immunization and Lab Services 
Interior Health operates the Sicamous Health Centre which offers immunization, laboratory and community services as overseen by the Sicamous Public Health Nurse. 
Public Health is open Tuesdays, Wednesdays and Thursdays between 8:30 a.m. and 3:30 p.m. Please call 250-836-4835 to learn more. 
Outpatient Lab Services are offered Mondays and Thursdays. To book an appointment, call 1-877-740-7747 or visit www.labonlinebooking.ca. 
Community Paramedicine 
Community paramedics provide primary care services to increase access to basic health care services in non-urgent settings, in patients' homes or the community. This is done within their training and experience and in partnership with local health care providers.