What is Communities in Bloom?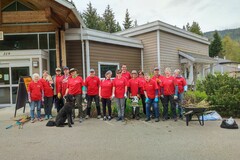 "The Communities in Bloom program inspires communities to enhance and sustain the visual appeal of neighbourhoods, public spaces, parks and streetscapes through the imaginative use of regionally-appropriate plants and landscaping with attention to environmental stewardship and to preserve heritage and cultural assets. An integral component of this very popular program is the friendly competition between communities, engaging citizens of all ages, service groups, businesses and associations in a public-spirited effort to succeed and be recognized." (BC CiB)
Sicamous Communities in Bloom
Sicamous Communities in Bloom is committed to helping Sicamous achieve the Official Community Plan priorities of Town Centre Revitalization and Encouraging and Enhancing Community Beautification, while fostering civic pride, environmental responsibility, and improved quality of life.
Destination Garden Community
Sicamous is proud to be featured as a Destination Garden Community on Canada's Garden Route.