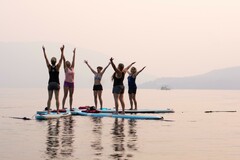 In 2019,the District of Sicamous received support from Interior Health and and BC Healthy Communities to create a community wellness plan. This exploration of community health included the creation of the Community Wellness Committee (CWC) with representation from the public. 
"This strategy aims to consider the critical and interconnected role our Social, Economic,
Natural and Built environments as they work together to create and foster a strong and
healthy community where all individuals can reach their full potential" (Live More Live Well Strategy). 
In the development of the Live More Live Well Strategy, the CWC hosted public engagement events and workshops between April and September of 2019. 
Office Hours 
Monday to Friday between 8:30 a.m. and 4:30 p.m. excluding Statutory Holidays. 
Sicamous Community Health Centre 
Karen Eastland, Health Centre Manager 
keastland@sicamous.ca