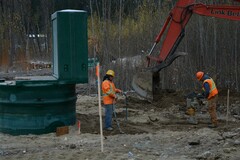 The Operations & Infrastructure Department is responsible for the maintenance and planning of District infrastructure which includes: highways (municipal roads), drainage (stormwater), water (storage, treatment and distribution) and sanitary sewer (collection and treatment). The Department is comprised of the Operations Manager, Engineer Technician, Operations Team and Utilities Team. The mission of the Operations & Infrastructure Department is to ensure the integrity and reliability of the District infrastructure by balancing safety, environmental and operational needs through responsible asset management and efficient resource allocation.
Operations  
The Operations Team is responsible for the maintenance of municipal roadways as well as District-owned parks, trails and facilities. 
Engineering
The Engineer coordinates and oversees the rollout of capital project design, tendering, contract administration and record drawing, conducts Subdivision reviews from the perspective of offsite servicing and provides support for Operations and Utilities. 
Utilities 
The Utilities Team is responsible for the operation of the water distribution network and water treatment facility as well as the wastewater treatment facility and wastewater collection system.