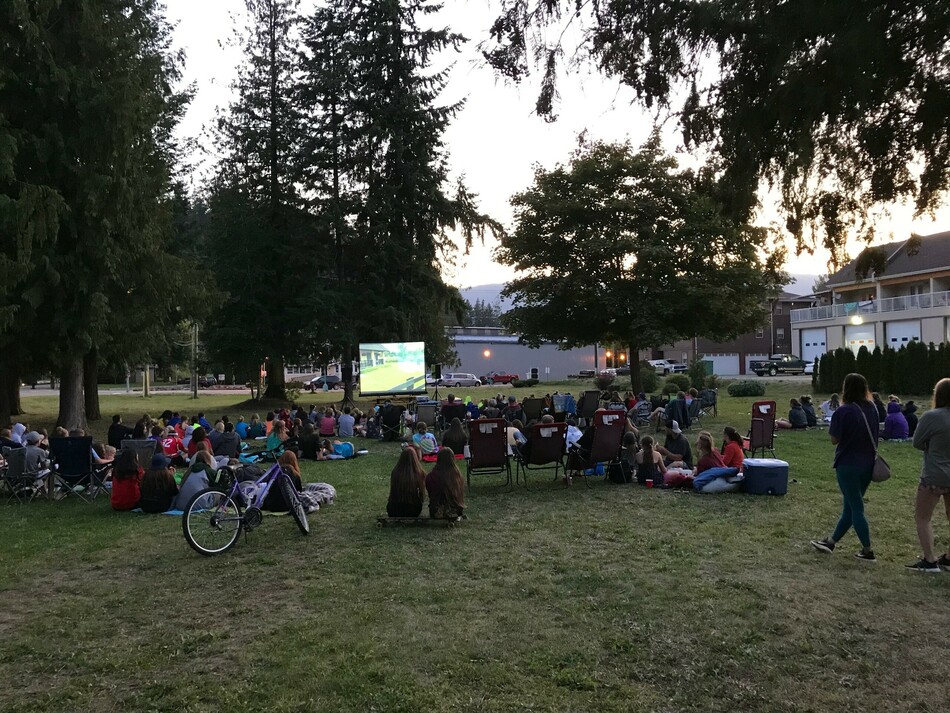 Summer events postponed until 2022 due to air quality advisories
July 28, 2021 13:30 Hours — In light of significant air quality advisories due to wildfire smoke, Music in the Park and Movie in the Park have been postponed until 2022.
Following the Sicamous & District Chamber of Commerce's announcement that it could no longer host Music in the Park, the District of Sicamous was fully prepared to take over the event and was looking forward to hosting both Music in the Park and Movie in the Park in August. The Recreation and Events Department was able to purchase a new screen and projector to improve the movie viewing experience and fantastic artists were lined up to perform for the community.
We currently find ourselves in a provincial state of emergency, declared July 21, 2021 by Minister of Public Safety and Solicitor General Mike Farnworth, due to the wildfire situation in B.C. and based upon the recommendation from BC Wildfire Service and Emergency Management BC. Currently, the BC Wildfire Dashboard shows 243 active wildfires in the province with 63 Evacuation Orders covering 3,375 properties and 93 Evacuation Alerts covering 18,065 properties according to EmergencyInfoBC.
A large portion of our community is currently under an Evacuation Alert, after the Order was downgraded Monday; however, there are properties that still remain under Evacuation Order due to the Two Mile Creek wildfire. Today, the Two Mile Creek wildfire continues to burn, but is being held at 1,000 hectares thanks to the steadfast efforts of firefighting crews who are reinforcing protective guards around the fire.
The Air Quality Health Index is currently 10+ for the North Okanagan area, which is the highest level of health risk on the index. BC Air Quality says at-risk populations should avoid strenuous activities outdoors and that children and the elderly should avoid strenuous exertion. The general population is advised to reduce or reschedule strenuous activities outdoors, especially if you experience symptoms such as coughing or throat irritation.
According to EmergencyInfoBC, wildfire smoke is most harmful to infants and young children or older adults with pre-existing heart and lung conditions. The best way to protect oneself is to reduce exposure, but the following tips are available from EmergencyInfoBC:
Stay indoors and keep the air clean (windows/doors closed, no smoking, no burning fireplaces/candles/incense, no vacuuming).

When in a vehicle, keep windows closed with air conditioning set to recirculate.

Reduce time spent outdoors and avoid vigorous outdoor activities.

Visit places with controlled air supply, such as shopping malls, swimming pools, public libraries, etc.

People with asthma or other chronic illness should ensure they have an adequate supply of inhalers/medication and should activate their asthma or personal protection plans.

High-quality, portable air cleaners that use HEPA filtration can effectively remove smoke particles from the indoor air. People with respiratory conditions should consider purchasing HEPA filtration units.

For non-emergency medical advice or assistance, visit HealthLinkBC or call 8-1-1.

Only call 9-1-1 during an emergency, such as if someone is having difficulties breathing or is in cardiovascular distress.
This year has had many twists and turns for all of us, and while we are disappointed we cannot host Music in the Park and Movie in the Park this summer, the safety of our community is the top priority. The District of Sicamous would like to thank residents for their understanding during this time and we look forward to 2022 when we can once again gather at the Sicamous Beach Park to watch movies under the stars and listen to live music from our camping chairs.
Stay safe Sicamous.
-30-
Additional Resources: