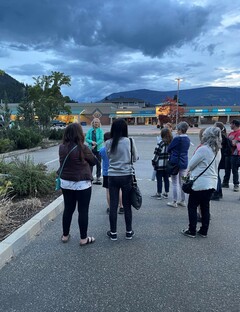 Grizzly Bear Solutions held a FREE Bear Safety Workshop on Monday, May 8 in Sicamous at Council Chambers - 446 Main Street.
Grizzly and black bears are active this spring! This workshop was geared towards hikers, mountain bikers, runners, dog walkers, hunters, campers, berry pickers, birdwatchers and anyone living, working, or recreating in grizzly and black bear habitat.
Around 20 community members attended the workshop including Melanie Buettner who said "It was great for the family and we really enjoyed it. Gillian kept the audience involved in the discussion and made it fun for the kids. They especially liked being able to spray the bear spray!" For training purposes, inert bear spray is used which means there is no pepper content and there is no risk to the public when discharged into the air.
Buettner's daughter, Kinsley, also learned the difference between a black bear and grizzly bear and she shared that they now both know what to do and not to do when they encounter bears.
Another Bear Safety Workshop is scheduled for tonight, Tuesday, May 9 at Cambie Hall - 2859 Cambie Solsqua Road from 7 to 9 p.m. No registration is required.
Learn more about the workshop in our Community Calendar: Community Calendar: District of Sicamous