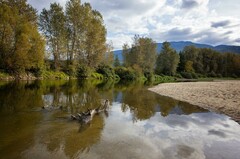 Please be advised smoke may be visible from Owlhead over the next two weeks while controlled burning is underway for wildfire mitigation. 
Questions may be directed to Fire Chief Brett Ogino at 250-836-2477 or firechief@sicamous.ca.
According to BC Wildfire Service, there are no current fire bans or restrictions for the Kamloops Fire Centre. However, forest use restrictions are in effect for some areas.  
Please note that, under the District of Sicamous' Outdoor Burning Bylaw, certain fires are restricted to the first two weeks of April and the last two weeks of October. 
Additional Resources: