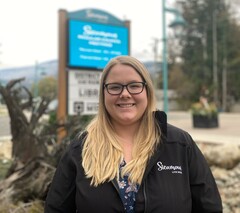 FOR IMMEDIATE RELEASE
November 21, 2022—The District of Sicamous is pleased to introduce Bianca Colonna as the municipality's new Chief Financial Officer (CFO).
"Being born and raised in Sicamous, coming back and working in Sicamous has been a goal of mine since I moved away for school 12 years ago," said Colonna. "I am super excited to work for the District. I look forward to seeing old faces and meeting new ones. I truly love Sicamous and I am ready to get to work with the new Council."
Colonna is a Chartered Professional Accountant who achieved her Bachelor of Business Administration at the top of her class from Thompson Rivers University. Prior to her accountant position with the City of Salmon Arm, Colonna worked at BDO Canada LLP for a variety of clients including municipalities, small businesses and non-profit organizations.
In her new role, Colonna will be working alongside her predecessor, Kelly Bennett, who held the CFO position for nine years before being appointed Chief Administrative Officer in August. 
"We are lucky to have a talented individual such as Bianca join our team," said Bennett. "I am confident the finances of the District of Sicamous are in good hands."
The CFO is a municipal officer position under the Community Charter. This role leads the Finance Department and ensures that the provision of services complies with District bylaws, policies and statutory requirements.
Colonna says she is eager to contribute to projects that help shape the community she loves; one of the rewards of working in municipal finance. When she isn't at the District office or chasing her mischievous son, you will likely find Colonna taking in one of the local hockey games. She also enjoys softball and has played locally in the Sicamous Mixed Softball League.
-30-
For additional information, please contact:
Kelly Bennett, Chief Administrative Officer | P: 250-804-6269 | E: kbennett@sicamous.ca