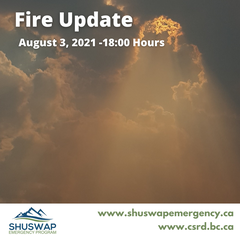 Posted by the CSRD/Shuswap Emergency Program: 
"It has been a good day in the Emergency Operations Centre. We had Evacuation Orders rescinded in the District of Sicamous and at the Three Valley Gap Chateau.
Cooler weather is helping with fire efforts on all the fires we are monitoring in the Shuswap.
BC Wildfire Service is now bringing in a full incident command team to Salmon Arm to assist with coordination and delivery of firefighting efforts on all our fires.
As a result, this will be tonight's evening update, unless the fire situation changes significantly overnight.
We hope to have continued good news to report tomorrow."