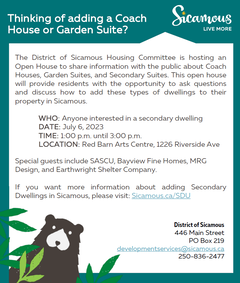 Thinking of adding a coach house or garden suite? The District of Sicamous Housing Committee is hosting an Open House to share information with the public about coach houses, garden suites, and secondary suites. This open house will provide residents with the opportunity to ask questions and discuss how to add these types of dwellings to their property in Sicamous.
WHO: Anyone interested in a secondary dwelling
DATE: July 6, 2023
TIME: 1 to 3 p.m.
LOCATION: Red Barn Arts Centre, 1226 Riverside Avenue
Special guests include SASCU, Bayview Fine Homes, MRG Design, and Earthwright Shelter Company.
If you want more information about adding secondary dwellings in Sicamous, please visit: Sicamous.ca/SDU or email developmentservices@sicamous.ca