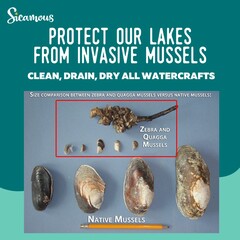 Help protect our lakes from invasive mussels!
A recent report from the Province of B.C. has Shuswap watershed groups raising the alarm.
Invasive mussels have both ecological and economic consequences. In 2013, the estimated cost to deal with invasive mussels was $53 million annually. Now, the estimated cost ranges from $64 to $129 million annually. These costs include hydro infrastructure, water supply infrastructure, agriculture and golf course irrigation, maintenance to boats and marinas, lost profits from the tourism industry and losses in residential property values.
Invasive mussels are a threat to the quality of our drinking water, our infrastructure and the health of our freshwater systems. These aquatic invasive species cause hundreds of millions of dollars in economic damage annually in North America.
When transporting ANY kind of watercraft (boats, paddleboards, kayaks, canoes, inflatables and more), use the "CLEAN, DRAIN, DRY" method to check for invasive mussels. Watercraft inspection stations are available on routes coming into B.C. At the watercraft inspection stations, B.C. Conservation Officers inspect and, if needed, decontaminate the watercraft.
Zebra and Quagga mussels are hard to spot – they range in size from 1 millimetre to 3 centimetres and have microscopic larvae. Adult mussels and larvae can survive for several weeks outside of water, so it is VERY important and required by law that you stop with your watercraft at an inspection station.
This media release from the Shuswap Watershed Council and Columbia Shuswap Invasive Species Society shares important information about the threat of invasive mussels:
Read the report from the Province of B.C.:
Learn more about how the District of Sicamous is addressing invasive species here.