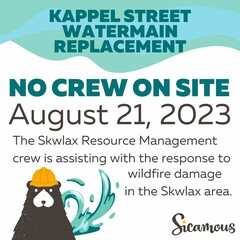 No crew will be on-site at the Kappel Street West watermain replacement project today (August 21).
This past weekend, the Bush Creek East wildfire burned through the Skwlax area, causing significant damage to the community where Skwlax Resource Management is based.
Today, the Skwlax Resource Management crew will assist with the evaluation and response to damage caused by the wildfire.
We expect the crew to return to normal operations in Sicamous tomorrow, August 22.