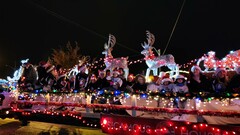 Thank you to everyone who gathered on December 3, 2022 to share their holiday cheer!
This year, there were over 20 parade entries. Councillor Bob Evans shared Christmas carols on stage and Mayor Colleen Anderson addressed the crowd. A countdown to the Main Street Christmas tree light-up was followed by festive fireworks! There was a great turnout with around 450 people in attendance.
What a great evening of community celebration.
2022 Christmas Parade & Light Up Photo Gallery