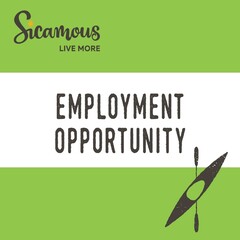 As a member of the District of Sicamous senior management team and reporting to the Town Manager, this newly created position of Community Services Manager is responsible for leading, managing and coordinating all functions within the scope of community, social, emergency and protective services including recreation and events, the Fire Department, the Community Health Centre and facility management for the District. Working closely with the Town Manager, the senior management team and staff, this position contributes to achieving the overall vision and strategic priorities of the organization and the community.
Competition Number: 15-2021
Job Title: Community Services Manager 
Position Type: Regular Full Time
Closing Date: September 3, 2021
In compliance with Article 10.01 of the Collective Agreement, applications are invited by the undersigned up to 4:30 p.m. Thursday, July 8, 2021.
For complete job details, view the Job Posting and Job Description.