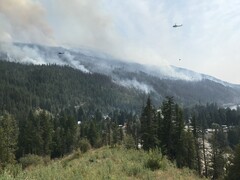 August 4, 2021 10:20 Hours
The CSRD and Shuswap Emergency Program confirm: 
"There has been some lifting of smoke in the area of the Two Mile Fire, which is good news for firefighting efforts. But this may be worrying residents who can now see active plumes of smoke which weren't visible before. These are NOT new fires. BC Wildfire is well aware of all fire activity in the area of Two Mile. While residents need to remain prepared while on ALERT status, there is no need for residents to worry about seeing additional smoke in various locations near the fire."