Oh, Mr. Mayor, Have you seen the Easter Bunny?
Posted On: Apr 09, 2020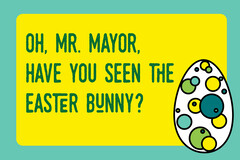 Oh Mr. Mayor - have you seen the Easter Bunny?
In this video Mayor Terry Rysz shares a message with the local kids in Sicamous that the Easter Bunny has been declared an essential service, and that he's arranged for the Fire Chief to take him for a drive around town Sunday Morning!
Keep your ears open and your eyes peeled for Mr. Bunny taking a tour through town on Sunday April 12 at 10 am with the help of the Fire Chief! Give him a big wave from your window or yard!