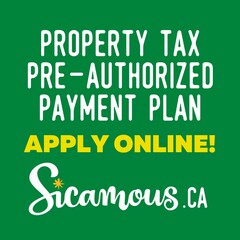 We're moving online!
To apply for your Property Tax Pre-Authorized Payment Plan, please complete the online form at the bottom of the Prepayment Program webpage. Please note that if you are renewing your payment plan, a new VOID cheque is not required.
Monthly payment amount
Your monthly payment amount is an estimate based on one-tenth of your current year's net tax payable. The amount of your regular monthly payment for the next year will be included on your annual property tax notice. 
If you are beginning the program mid-year, monthly payments can be set at the amount that suits your budget. This will lighten the amount owing at the due date.  
    
Each month, the District of Sicamous will notify your financial institution of the amount of the withdrawal. The District does not charge for this service; however, your financial institution may make a charge for your withdrawal, depending on the type of account you have. 
If a withdrawal is not honoured by your financial institution for any reason, your property tax account will be charged a returned item fee of $25.
Provincial legislation requires that any current property taxes that remain outstanding after the due date will be charged a penalty. To avoid this penalty, taxpayers must ensure that any balance remaining on their property tax account (after prepayment installments and home owner grant have been applied), is paid in full by the property tax due date.