Seeking your input: Royal BC Museum Modernization
Posted On: Jun 18, 2019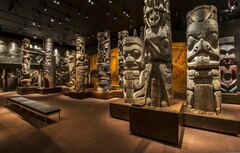 From: Royal BC Museum Modernization Site
The Royal BC Museum is one of B.C.'s greatest cultural icons, drawing millions of visitors each year onsite and online. It offers visitors the chance to explore our social and environmental history and discover the events and people that have shaped our province.
On Feb. 12, 2019, the speech from the throne announced government's intention to modernize the Royal BC Museum, to protect its historic holdings and provide better access to its collections. This consultation is a first step in gathering ideas for a modern provincial museum that contains exhibits and learning modules reflective of the whole province.
Staff from the Ministry of Tourism, Arts and Culture and the Royal BC Museum will be engaging with British Columbians between April 1 and June 27, 2019. They look forward to hearing from people from all over B.C., including Indigenous people and local nations, historians and scientists, academics, teachers, the technology sector, tourism organizations, and the gallery, library, archives and museum community.
Feedback will be gathered through:
An online dialogue hosted on this site between April 1 – June 27, 2019 at 4pm. See below.
Formal submissions from experts or organizations that will be accepted by email at rbcm.engagement@gov.bc.ca until June 27 at 4pm.
Register to attend upcoming community meetings in Vancouver, Duncan, Victoria and Kelowna.
NEW: An online community meeting will be held on June 20 at 7pm – 8pm to allow people from all over the province to participate virtually from their home. Register now.
All feedback received will be used as input into recommendations that will be developed in the Fall 2019.