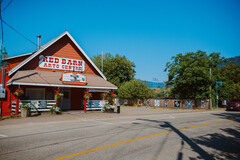 Did you know that Sicamous has a Heritage Registry?
In 2021, Council approved a Heritage Designation Bylaw and designated Sicamous' first heritage property - the Red Barn.  This was the first step in formally recognizing the value of local heritage, but the less restrictive form of heritage recognition - a Community Heritage Register - did not exist. In order to fill this gap and to respond to a request from the public, a community led initiative created the Sicamous Community Heritage Registry.
Find information about the District's heritage program and learn about heritage sites in our community by visiting our Heritage webpage!