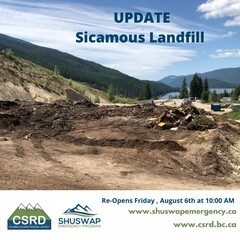 At 10:25 a.m. the CSRD confirmed: "The Sicamous landfill will re-open Friday, August 6th at 10:00 AM. The landfill will continue with regular hours thereafter. Friday to Tuesday from 10 AM - 4 PM.

The temporary garbage disposal option at the Sicamous Curling Club located at 1121 Eagle Pass Way will remain open until further notice.

The Sicamous Bottle and Recycling Depot is open as per their normally posted hours of operation."