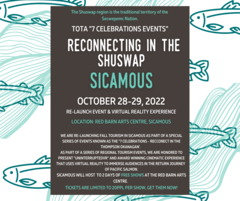 The virtual reality experience that brings the beauty and struggle of a salmon migration to the heart of communities has landed in Sicamous. 
Dates: October 28 and 29, 2022
Times: Multiple Viewings Available 
Cost: FREE!
Much of the filming took place in the waters of the Adams River, and the event is now returning to the place where it all began – here in the Shuswap!
We invite you to book viewings to enjoy the "UninterruptedVR" experience for yourself, your organization, friends and family. Each viewing can accommodate 20 people, each with their own headset, so seating is limited!
FREE Virtual Reality Experience for ages 7 to 100 years old! Children under 12 years old must be accompanied by an adult. This is also accessible for all languages, as it's a visual/audio experience. The audience will be seated during the VR experience, while wearing a headset.
If you are unable to attend in Sicamous, check out times in Salmon Arm on October 30th.
To learn more about Uninterrupted, please visit the website here - https://uninterrupted.ca/