Notice of Public Hearing: Zoning Bylaw No. 1000, 2022
Posted On: Sep 15, 2022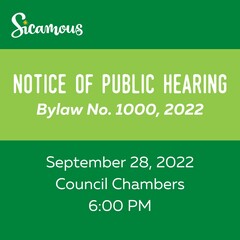 A Public Hearing will be held on Wednesday September 28, 2022 at 6 p.m. in Council Chambers, 446 Main Street, to consider the District of Sicamous Zoning Bylaw No. 1000, 2022.
The purpose of proposed Bylaw No. 1000, 2022 is to update zoning within the District and to implement the Official Community Plan. The proposed bylaw enables regulations for Short Term Rentals and considers permitting Short Term Rental use for specific properties as requested by landowners.
If you have comments on the proposed bylaw, you can be heard at the Public Hearing or submit written comments. Written comments received by 4:30 p.m. on September 27, 2022 will be provided to Council.
Submit written comments:
Email: publicinput@sicamous.ca
Mail: 446 Main Street, PO Box 219, Sicamous B.C., V0E 2V0
Delivered by hand: 446 Main Street, Sicamous B.C.
All written comments received prior to the Public Hearing will be presented to Council at the Public Hearing. Those attending in-person will have the opportunity to speak to Council about the proposed bylaw. Please note that Council will not receive submissions after the close of the Public Hearing. The District of Sicamous assumes no responsibility for correspondence received by the District Office after the Public Hearing.