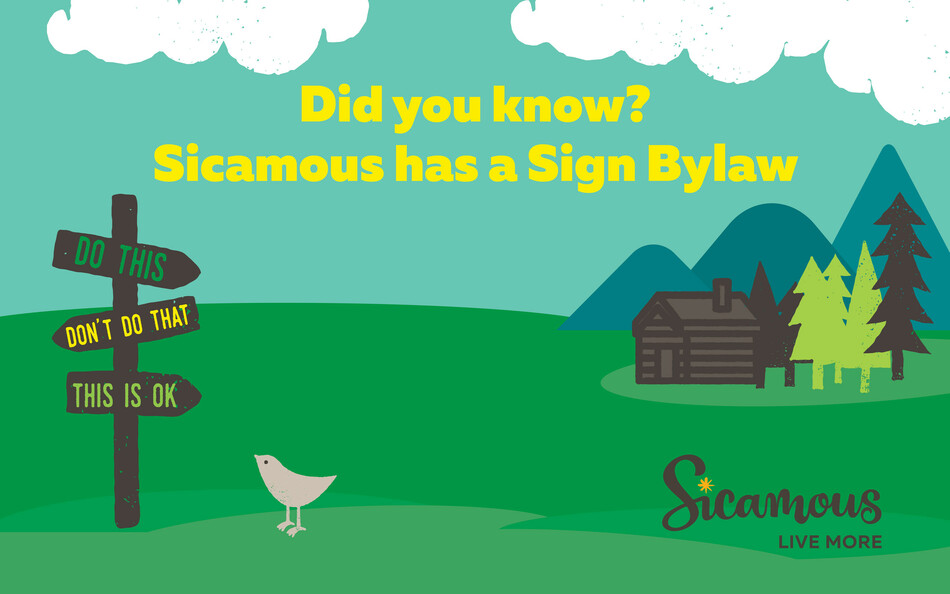 Did you know? Sicamous has a Sign Bylaw
Everything listed below is available as a PDF HERE.
District of Sicamous Sign Bylaw No. 814, 2011 can be found HERE.
Why does the District of Sicamous need a Sign Bylaw?
To encourage signage that is compatible with surroundings, appropriate to the activity, and expressive of the identity of individuals and the community.
To protect the public from the effects of signs that may conflict with other signs or lights erected for the direction of vehicular and pedestrian traffic.
To protect the public from the dangers of inferior construction and from the nuisances or hazards arising from improperly sited signs.
To protect various sectors of the District from the effects of signs which may be inappropriate as to appearance, size, height, design, and location.
To permit the proper identification of businesses within the District and to indicate the types and trade names of goods and services manufactured or sold on or off the premises.
Some frequently asked questions:
Q: Where can I find the Bylaw?
A: This Bylaw, along with other District Bylaws, can be found on our website at
www.sicamous.ca or by contacting the District at 250-836-2477.
Q: I am having a garage sale, can I put up signs? A: Yes, you can.
Places you can put a sign:
On your property
On the District right of way
On bulletin boards
Please do not put your sign on:
Hydro poles
Fire hydrants
Or over Street signs
Q: I have started a home-based business and want a sign. Do I need a permit?
A: Yes, you need a permit for this and a District Business licence as well. Visit the District Office or call 250-836-2477 for more information.
Q: I am from out of town and want to advertise my business in Sicamous,
can I do that?
A: Yes, you can, however there is a little more to it than just putting up a sign, please call Bylaw Enforcement and we will be happy to review the requirements with you.