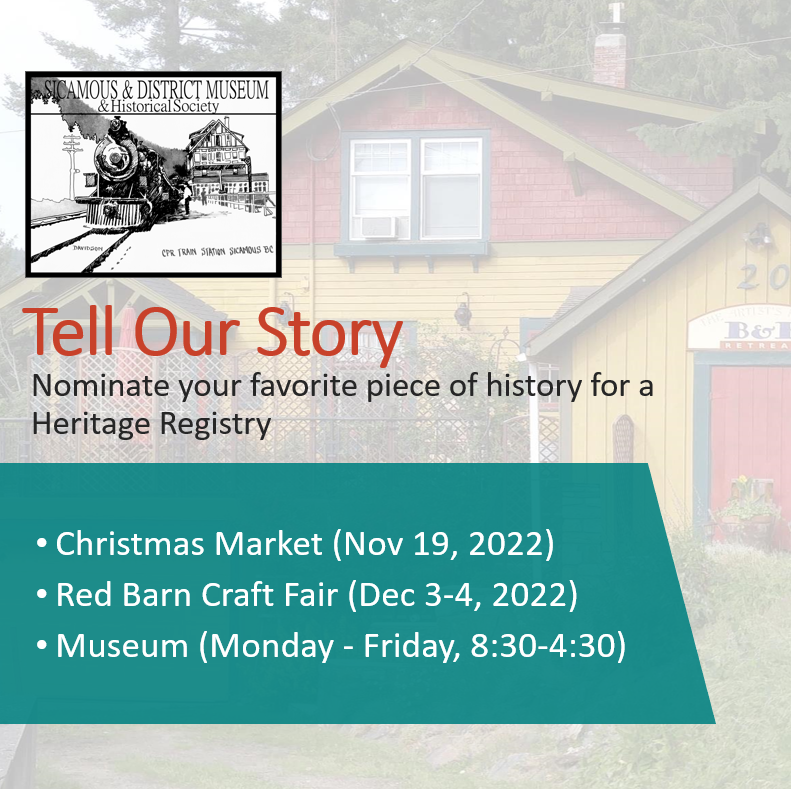 The Sicamous & District Museum is collecting nominations of sites within Sicamous that have a story to tell about our community and its past.
Fill out a Nomination Form and submit:
In Person | Visitor Centre, 446 Main Street, Sicamous, B.C.
Mail | Sicamous & District Museum & Historical Society, Box944, Sicamous PO, Sicamous, B.C. V0E2V0
Email | info@sicamousmuseum.ca
WHAT CAN I NOMINATE? Sites can be as simple as an old tree, the sole survivor of a historic homestead; a viewscape, where in decades past, a sternwheeler could be seen bringing mail; a trail/route, that was once the sole connection between communities; a building, that was once home to a significant family or individual, that now stands changed, with a story to tell.
WHY TELL OUR STORY? Stories and tangible pieces of a community's past (things we can touch), tell us who we were in the past, help us understand who we are now, and inspire our future. A heritage register helps us record these stories, connected to and told by the tangible past. A heritage register is a list of places and their stories, told through "Statements of Significance" (SOS). Sites that are nominated will be researched through conducting oral interviews and archival research. Sites that have enough documentation to create an SOS may be shortlisted for inclusion in the register.
HOW CAN I LEARN MORE?
Please contact Hannah Chipman, Archivist of the Sicamous & District Museum & Historical Society,at info@sicamousmuseum.ca or 250-836 5260.