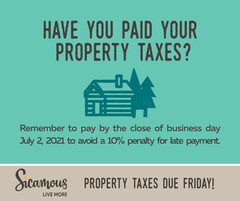 District of Sicamous Property Taxes are due on Friday, July 2, 2021. In order to avoid a penalty, please pay your taxes by the due date and ensure you claim the provincial Home Owner Grant if you are eligible. If you have not received your 2021 Property Tax Notice, please contact the District of Sicamous Office. 
Payment Methods: 
Through your banking institution online or through telephone banking. When paying online, search for "Sicamous" as the payee and choose the property tax option. Your 11-digit account number is the three-digit jurisdiction number (348) and your eight-digit roll number (00000.000) combined. 
By Visa or Mastercard through Paymentus, a third-party automated payment service that charges a 2.5% convenience fee. Pay with Paymentus online or call 1-855-347-9799.
By cash, debit or cheque at the District Hall (446 Main Street) during office hours Monday to Friday 8:30 a.m. to 4:30 p.m. COVID-19 protocols are in place to ensure public safety.
By cheque in the After-Hours Drop Box located to the right of the Main Street entrance of the District Hall.
Sent by mail. Please ensure arrival by July 2, 2021 as postmarks are not accepted as the date of payment
The due date to claim the provincial Home Owner Grant tax reduction is also July 2, 2021.
If you are eligible, you may apply to claim your Home Owner Grant the following ways:
By phone at 1-888-355-2700
In person at Service BC in Salmon Arm (850A - 16th Street, NE)
A 10% penalty is applied to current unpaid tax balances and unclaimed Home Owner grants at the close of business day on July 2, 2021.
Should you have any questions, please feel free to call the District of Sicamous Finance Department at 250-836-2477 or email finance@sicamous.ca.