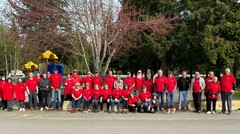 What an amazing turn out of volunteers for the 6th annual Community Clean Up event this past weekend. It was a successful collaboration between the District of Sicamous and Communities in Bloom, supported by volunteers, non-profit organizations and businesses within the community. 
We would like to acknowledge all the volunteers who participated in this event, including:
Event Organizers

Community Clean-Up Volunteers

Deb Heap

Darrell Symbaluk

o   Terry

o   Mary

Jeff Mallmes

Gord Bushell

o   Al

o   Jan

 

 

o   Michelle

o   Ian

Flowerbed Project Volunteers

o   Bryant

o   Ryan

(Senior Residences)

o   Brenda

o   Evan

o   Linda

o   Anna-Marg

o   Sharen

o   Kelly

o   Marc

o   Eileen

o   Steve

o   Jen

o   Stephen

o   Donelda

o   Jason

o   Julie

o   Ed

o   Rigmor

o   Carly

o   Malcolm

o   Colleen

o   Linda

o   Scott

o   Phaedra

o   Loren

o   Brodie

o   Karen

o   Clay

o   Joanne

o   Colleen

o   Gord

o   Karen

 

 

o   Sarah

o   Nicole

Our Youngest Volunteers

o   Marjorie

 

o   Lily

o   Nora

 

 

o   Audrey

o   Connie

Sicamous Legion Volunteers

o   Anika

o   Zack

o   Judy

o   CJ

o   Jessie

o   Darlene

o   Finn

o   Jamie

o   Denise
 We would also like to thank the support of businesses and organizations in the community, including:
o   Sicamous Bible Church

o   Royal Canadian Legion Branch 99

o   Sicamous Pickleball Club

o   Twin Anchors

o   Bayview Fine Homes

o   Parkland Home Building Centre

o   Traditional Bakery

o   Fruit World

o   Bryant Laboret for bringing his skid steer
A special thank you to Serge and Savannah who cleaned Husky Frontage Rd and Maier Rd in March, and to The Narrows for joining in on the activities by adding plantings facing Riverside Avenue.
Communities in Bloom is always looking to add volunteers to assist with other projects this year as we pursue a 5 Blooms rating for our town. Please email sicamouscommunitiesinbloom@gmail.com if you would like to participate as a volunteer.