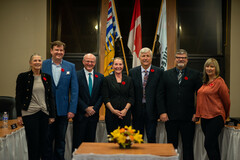 Last evening, the newly elected District of Sicamous Council met in Council Chambers for its Inaugural Council Meeting.
The Honourable Judge George Leven administered the oaths of office for Mayor Collen Anderson and for Councillors Ian Baillie, Pam Beech, Gord Bushell, Bob Evans, Malcolm Makayev and Siobhan Rich.
Council was honoured to have several dignitaries in attendance for the occasion, including Splatsin Councillors Sabrina Vergata and Theresa William, Member of Parliament Mel Arnold, Member of the Legislative Assembly Greg Kyllo and Area E Director for the Columbia Shuswap Regional District (CSRD) Borard, Rhona Martin.
Mayor Anderson presented her Inaugural Address and business was conducted to appoint Council members to various positions, boards and committees, including:
Councillor Makayev as Acting Mayor for the remainder of 2022 and for the 2023 year;
Councillor Makayev and Councillor Rich as District representatives on the Council-to-Council Committee with Splatsin; 
Mayor Anderson as CSRD Board Director and Councillor Makayev as alternate; and
Councillor Bushell as the District representative on the Shuswap North Okanagan Rail Trail Governance Advisory Committee and Councillor Makayev as alternate.
"I feel honoured to be chosen by Sicamous to represent you as Mayor," said Mayor Anderson. "I'm also so very excited that you chose this group of people to work together. I feel a sense of renewal, hope and freshness, this group will be very professional, collaborative, transparent, and a great representation of Sicamous. From this day going forward the 7 of us represent the District of Sicamous."
The first Regular Council Meeting of the new Council will be held on Wednesday, November 30, 2022 at 5 p.m. in Council Chambers. Meetings are open to the public and may be attended in person or electronically via ZOOM. Please visit the Community Calendar for more details.
2022 Inaugural Council Meeting
Photos by Tessa Philips, Moonkissed Memories.