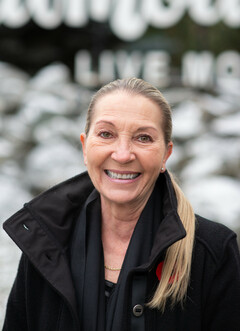 The rainy start turned into a brilliant summer. The lake was spectacular, and we saw an increase in tourism in Sicamous and the surrounding area. The businesses that I spoke to were generally happy with the uptick. We saw a shortage of people wanting to work. However, I witnessed business owners and employees step up to keep things on track and running smoothly. Working together, they did a great job.
We once again revealed that Sicamous is an amazing community. We're coming back strong from a pandemic, floods, and fires. We are resilient. We have a great solid group of community volunteers. For its participation in Communities in Bloom, Sicamous achieved five blooms in 2022. Or as Deb Heap likes to say, "Five blooms baby"! Thanks to Deb, all the volunteers, and our amazing public works team.
2022 reminded us that in Sicamous, we have an outstanding business community; their contributions to good causes that needed support were inspiring. Our businesses gave so much, from cash prizes for cardboard boat races and hockey team sponsorship to bouquets of flowers and catering, from purchasing hoodies and toques to houseboat trips and day trips on pontoon boats. This generosity stays in our community, supporting our community – it was simply amazing. Our business community is outstanding, and thank you, to all of you.
Changes were made as it was an election year. People put their names forward to represent their community. Elections are not easy, not fun, and frankly stressful. However, we need people to step up to speak on behalf of our community, our residents, and carry their messages forward. Thank you to all those who put their names forward.
Finally, the Solsqua-Sicamous Bridge project reached completion. I think we can agree that took way too long, but we are happy to have the new and improved infrastructure. The Monashee Music Festival held at the Sicamous Dog Park was a great success. The Sicamous Beach Park received a facelift and new facilities. What a great place to enjoy and play more! Events such as Canada Day, Family Fun Day & Fireworks, the Christmas Light Up & Parade, and the CP Holiday Train all saw record numbers from our community and our extended communities. We missed socializing, connecting, and generally getting out. Hopefully, those days are behind us.
The new year brings new opportunities. It's now time to find them, grab them, and run with them! Happy 2023 everyone!
- Mayor Colleen Anderson