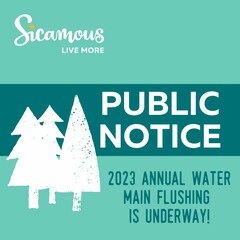 The 2023 annual water main flushing is underway! This process will take a few weeks.
Water main flushing is an annual program that serves to clean water distribution pipes of sediments that build up over time and improve water quality in the municipality.
Due to water being forced through the system at high velocities, you may experience periodic low water pressure and the water may appear slightly discoloured. Please note that this discoloration is not a hazard to health and can be remedied by running cold water for several minutes.
If you have any concerns, please get in touch with the Public Works Department at 250 836-4105.