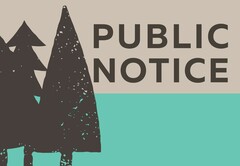 Compliant with Section 166 of the Community Charter, District of Sicamous Council invites all interested persons to attend a public consultation on the 2023 Financial Plan. The Chief Financial Officer will provide a detailed synopsis and answer inquiries related to the budget process and financial matters.
Date: Wednesday, May 10, 2023
Time: 5 p.m.
Location: Council Chambers, Municipal Hall (446 Main Street)
All meetings are hosted electronically via ZOOM. Please visit the Community Calendar or email corporate@sicamous.ca for more information.