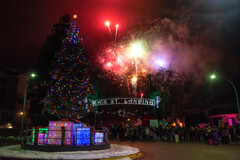 The holiday season is upon us, which means it's time to start organizing the 2023 Light Up the Community Contest! We love this time of year when our town is lit up with lights and cheer.
If your home has a stellar holiday light display, please consider entering our community contest. Prizes will be awarded! The registration deadline has been extended to Friday, December 8. Don't be late! To register, please visit our Light Up the Community webpage and fill out the online form or download a PDF copy.
Businesses! 

The Sicamous & District Chamber of Commerce has a Christmas Decorating Challenge for you. Check it out!