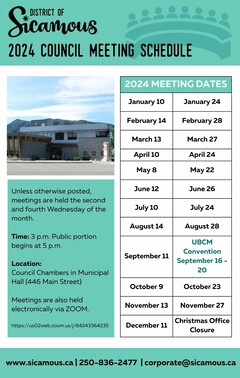 We are happy to share the schedule for 2024 Council Meetings!
Unless otherwise posted, meetings are held on the second and fourth Wednesday of the month. The meetings begin at 3 p.m. with the public portion beginning at 5 p.m. in Council Chambers at 446 Main Street. Meetings are also held electronically via ZOOM.
This notice complies with section 127 of the Community Charter, which requires that the date, time and place of regular council meetings be made public, and that notice must be given in accordance with section 98 at least once a year.
There are still a couple of meetings left in 2023. Check out the 2023 Council Meeting Schedule!