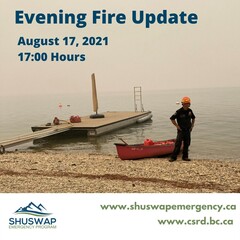 All Evacuation Orders and Alerts remain unchanged.

White Rock Lake Fire (78,190 hectares – estimate)

• In the short-term, rain and lower temperatures are decreasing fire activity across the area today.

• The BC Wildfire Service (BCWS) is reporting amount of rain received is not enough to have a lasting effect on the wildfire, however, it is giving ground crews a chance to strengthen existing guards and establish new line.

• Structure protection specialists and BCWS crews are working 24/7 around the communities most affected.

• In the area of the fire near Falkland, firefighters are holding the line where a successful planned ignition was recently completed.

Shuswap Complex Fires (Two Mile, Crazy Creek Gorge FSR, Hunakwa, Momich, Three Valley Lake)

• Precipitation has reduced fire behaviour across the Shuswap, ranging from approximately 30 millimetres in the Three Valley Lake Area to 10 millimetres in the Crazy Creek Gorge area. BCWS indicates that the rain will give crews a window of opportunity to enhance containment lines on all fires.

• BC Wildfire is conducting a review of the entire area and will be re-assessing all Evacuation Orders and Alerts in the complex on a regular basis.
• Firefighting resources for the Shuswap Complex were increased with the addition of new firefighters from Quebec.

• Progress is being made on fire guards on the Momich Lake Wildfire. That fire is not getting any closer to Seymour Arm or the Seymour Arm Main FSR at this time.

• For the Crazy Creek Gorge FSR Fire, mop-up operations continued today following successful hand ignition operations.

This will be the last update for August 17 unless the fire situation changes significantly.