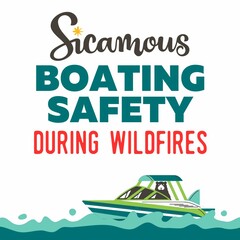 With smoky skies before us and two lakes surrounding us, it is important that boaters follow safe practices during wildfire situations.
Stay away from water bomber planes.
Follow directions from local authorities and emergency responders.
Obey waterway restrictions that are in effect.
Do not impede fire response or emergency responders.
Don't be that boater. Failure to comply with the above safe practices could result in fines or conviction.
More resources to help you boat safely:
Fire Prevention Checklist for Boaters

Safety equipment
Electrical
Engine
Cooking and fuel burning appliances
Fueling

What to do if there's a fire on your boat

Move to a safe location. Call 911.
Keep your back to the exit and the fire in front of you - do not let the fire block your escape.
Make sure everyone is wearing a lifejacket.
If the fire is engine-related, do not open the engine compartment. Use the access port.
If you can, use a fire extinguisher and aim it at the base of the flames to control the fire. Sweep the discharge nozzle from side to side and for a few seconds after the flames are completely out.
If you are underway and can't put the lifejacket out, wear your lifejacket, issue a mayday call, activate an emergency beacon if you have one, use your flares and abandon your boat.
Always know where you are and be ready to describe your specific location.

Lifejackets & Personal Flotation Devices

It is mandatory for boats to have one Canadian-approved lifejacket or PDF of appropriate size for each person on board.