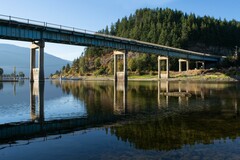 Minor delays on the Trans-Canada Highway west of the R.W. Bruhn Bridge are expected as preliminary site work begins within the Ministry of Transportation and Infrastructure's right-of-way. 
Construction signage indicated October 7, 2021, as the start date for the work; however, project manager Jonathan Melvin says crews won't be mobilizing until later this week. 
The scope of work to facilitate utility relocations includes:
Tree clearing west of Bruhn Bridge, both to the north and south of the existing highway,
Minor danger tree clearing immediately to the north of the CP Rail tracks, roughly across from Gill Avenue; and the
Construction of two, temporary, utility-access roads off Old Sicamous Road which is required for utility relocations. 
Traffic on Highway 1 west of the Bruhn Bridge will be impacted by single lane alternating traffic (SLAT) and 15-minute closures. Please follow DriveBC for regular updates. 
-30-
Additional Information: