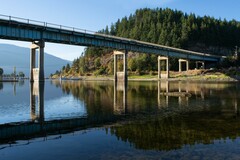 The Ministry of Transportation and Infrastructure (MOTI) has shared updated information regarding the R.W. Bruhn Bridge Replacement Project. 
The project is currently in the detailed design stage with early works of tree clearing and brushing completed in December of 2021 and utility relocations planned this year. Project tender is also projected to start in 2023.
The Highway 1 four-laning project includes approximately 1.9 km of Highway 1 four-laning, replacement of the existing R.W. Bruhn Bridge with a new four-lane bridge, and intersection improvements between Old Sicamous Road and Silver Sands Road.
MOTI has issued the required notice - Notice of Proposed R.W. Bruhn Bridge Replacement - which shares that an application has been made to the federal Minister of Transport, pursuant to the Canadian Navigable Waters Act, for the described work. View the notice. 
You may comment regarding the effect of this work on marine navigation online here. Otherwise, comments may be submitted in writing to: Transport Canada, 800 Burrard Street, Suite 820, Vancouver, B.C., V6Z 2J8. Comments will be accepted until February 25, 2023 at 12 a.m. PST.
View the province's dedicated webpage for the project.