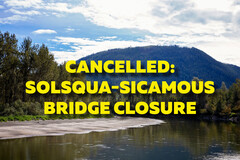 CANCELLED: Solsqua-Sicamous Bridge Closure
A geotechnical assessment was completed today, Friday February 12, 2021 and it was determined that the bridge continues to be safe for vehicular and pedestrian traffic. The scheduled closure has been cancelled and the bridge will remain open.
We sincerely thank the public for their cooperation and support of our prior notice, and apologize for any frustration or confusion this may have caused.
A PDF of the release can be found HERE.
Contact
Joe McCulloch, Operations Manager
District of Sicamous
C: 250-517-7370
E: operationsmanager@sicamous.ca