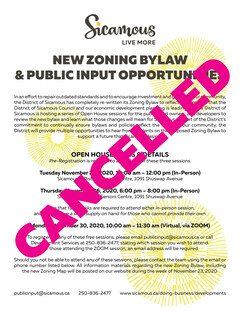 Due to the recent Public Health Orders, the three Open House sessions for the Zoning Bylaw that were scheduled for November 24, 26 and 30, have been cancelled. District Staff will be making arrangements for new sessions in the near future, and will advertise those sessions with plenty of notice so you can make plans to attend. 
Further details on the Zoning Bylaw including maps and other reference material will be posted on the District's website the week of November 23, 2020. 
To get on our email list for notifications on future information sessions for the Zoning Bylaw, please email publicinput@sicamous.ca.