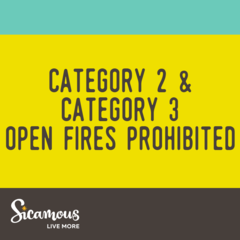 As of noon, May 18, Category 2 and Category 3 open fires are prohibited across the province. The purpose of this province-wide prohibition is to help prevent human-caused wildfires and protect public safety.
Other prohibited activities under this ban include the use of fireworks, sky lanterns, binary exploding targets, burn barrels/cages and air curtain burners.
The District of Sicamous Outdoor Burning Bylaw No. 452, 2002 is subject to provincial restriction orders, and therefore Category 2 and Category 3 open fires are not permitted within the municipal boundary.
The Sicamous Fire Chief would like to remind residents that only Category 1 campfires are permitted at this time however, please use extreme caution if you plan to have a campfire. Be aware that provincial restrictions can change on short notice and you need to be prepared to extinguish a Category 1 campfire quickly if further restrictions are announced.
If you have a campfire, they are to be a maximum of 0.5 metres (18 inches) high by 0.5 metres (18 inches) wide and must always be attended with suppression measures ready. Avoid having a campfire when it's windy, choose a proper fire pit or make a ring of rocks at least three metres from trees, shrubs, structures and debris, and do not leave a campfire unattended for ANY amount of time.
More and more we are seeing some of the most devastating wildfire seasons in our province and the District of Sicamous is no exception. How do you protect yourself? Create a FireSmart property, to increase the resistance of your home and property to damage caused by wildfire. 
FireSmartBC has a free homeowners manual that empowers homeowners with critical information, like how wildfires grow and spread, how to spot hazards in and around a structure, and how to store fuel sources at a safe distance.