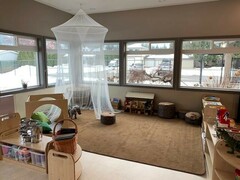 The District of Sicamous wishes to thank Eagle Valley Community Support Society (EVCSS) for its leadership in childcare services after operating the Little Bears Child Care Program for nearly two years.
"The District is grateful for its partnership with EVCSS," said Mayor Terry Rysz. "On behalf of Council, I would like to thank the program's early childhood educators, the EVCSS Board of Directors and their Executive Director, Janet McClean Senft. These individuals have supported local families and helped turn a Council strategic priority into a reality."
EVCSS gave notice to the District that they will not seek to renew their contract to operate the childcare facility owned by the District after conducting a thorough process to determine whether the Society is the right fit for its operation.
The Society has communicated that the time and focus required to navigate the growing industry of licensed childcare – working with the provincial government, education institutions, employment services, Early Childhood Educators of BC and others – and the ongoing commitment to recruit and support the education of childcare workers, is best suited to an operator whose only mandate is the provision of childcare.
"EVCSS is grateful for the opportunity to have partnered with the District of Sicamous," said Janet McClean Senft, EVCSS Executive Director. "Childcare is an important part of supporting families, we will continue to act as a partner to all the providers of early years education and care programs and will continue to develop our early years services to serve families well."
In the coming weeks, the District will issue a request for proposals to recruit a new operator and will be working closely with EVCSS to ensure a smooth transition.
In 2020, the District was fortunate to receive $848K in funding through the Community Child Care Space Creation Program to purchase and renovate 502 Cedar Street. The facility is currently licensed for children three to five years of age.
For additional information, please contact:
Kelly Bennett, Chief Administrative Officer | P: 250-836-2477 Ext. 2090 | E: kbennett@sicamous.ca
Background Information: