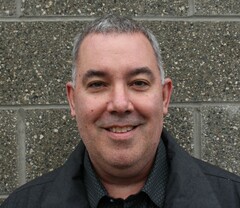 FOR IMMEDIATE RELEASE
Jason Freund joins District of Sicamous team as Community Services Manager
November 30, 2021—The District of Sicamous would like to welcome and introduce Jason Freund as the municipality's new Community Services Manager.
Freund comes to the District from the City of Lethbridge where he served the community as its Recreation Services Manager. With almost 35 years of experience working in local government, Freund began his career working in the Lower Mainland, and served the Interior communities of Merritt and Kamloops before moving to Alberta.
"This is my inevitable return to my home province and Sicamous," says Freund, who has spent most of his career within the realm of recreation and culture, specializing in facilities, agreements, and programming. "My wife and I always wanted to live in this Shuswap. We find it one of the most beautiful locations of anywhere we have been."
As Community Services Manager, Freund will oversee the management of District-owned facilities, cultural services, social and community development, recreation and events, as well as protective services.
"To attract the experience and caliber of skill sets of Mr. Freund is a gift to the District of Sicamous," says Town Manager Evan Parliament, who notes this is a new role within the District. "Staff look forward to working with Jason in the coming years."  
Freund adds that he is excited to work alongside existing District staff, learn more about the community, and discover the unique identity of Sicamous.
"I want to learn what the people of Sicamous are passionate about. I want to know which activities interest them, the skillsets they have and what Sicamous wants to share and have shared with the community. In the future, I am looking forward to meeting as many residents as possible."
-30-