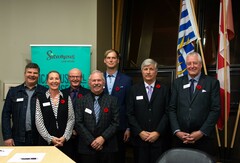 The District of Sicamous Council met in early March to review their list of Strategic Priorities. The previous list was an extensive 27 items split between the District and the District of Sicamous Development Corporation (DOSDC). During their session, Council made some important updates. 
Three new items were added: Growth of Recreation Programs, Services & Spaces; Creation of Seniors Daycare & Respite Services; and for the DOSDC, Pursue the Development of a Hockey Academy.
Council's updated list of Strategic Priorities for the District, after moving the eight to the DOSDC, is now a comprehensive list of 18 items. The new list is available here. 
As Council is the sole shareholder of the the DOSDC, and the corporation is now a fully incorporated entity, they can take on more projects and duties. Eight items were moved to a new list for the DOSDC, which will guide the Board in their duties. You can view the new list here. 
Questions, comments or feedback for Council can be directed to info@sicamous.ca.