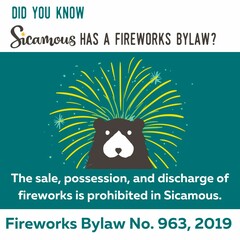 Did you know that Sicamous has a Fireworks Bylaw?
District of Sicamous Fireworks Bylaw No. 963, 2019
Why is there a Fireworks Bylaw?
The Bylaw protects our community from the misuse of fireworks which can result in fires.

The Bylaw helps firefighters respond to calls safely without the danger of fireworks being stored in vehicles or structures.

The Bylaw ensures that those who are using fireworks are properly permitted professionals who understand the appropriate safety precautions.
Things to know:
This Bylaw prohibits the sale, possession and discharge of fireworks without a permit.

The Bylaw defines fireworks as "devices that explode or burn to produce visual or sound effects." It does not prohibit flares and similar devices used by motorists, railroads, police or other agencies for signaling purposes.

The violation of this Bylaw is a ticketable offence for each day it is violated.
When are fireworks permitted in Sicamous?
A permit will only be issued to a recognized organization or group for a celebration such as Canada Day, New Years or Halloween. The holder of the permit must take all necessary steps to ensure the safety and security of members of the public attending the fireworks event and those involved in the display.
Please leave the fireworks to the professionals!