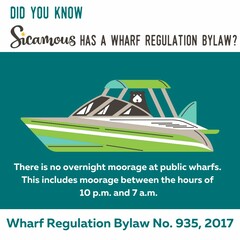 Did you know Sicamous has a Wharf Regulation Bylaw?
District of Sicamous Wharf Regulation Bylaw No. 935, 2017
Why is there a Wharf Regulation Bylaw?
The Bylaw ensures that District-owned wharfs are preserved for public use and enjoyment.

The Bylaw advocates for the safety of residents when using the public wharfs.

The Bylaw ensures that the public wharfs are an enjoyable place for residents and visitors to dock their boats during the day.
Things to know:
Public wharfs are mostly used for the loading and unloading of guests and supplies.

Overnight moorage at public wharfs is prohibited. Vessels cannot be moored at a District wharf between the hours of 10 p.m.

 

and 7 a.m.

The Bylaw prohibits swimming within 50 metres of a District wharf.

Vessels may not be refueled or serviced at a District wharf.

The Bylaw Officer may remove or impound any vessel that is found in violation of the Bylaw. A payment fee of $100 plus $180 per 24 hour period will be charged to the owner of the vessel.
Why can't I moor my vessel overnight?
Most vessels that are moored overnight at the public wharfs remain moored for more than a single night. By prohibiting overnight moorage, the Bylaw ensures that there is ample space available for public use during the day. Visitors can dock their vessels on public wharfs and walk into town to see all that Sicamous has to offer!
Bylaws & Bylaw Enforcement