District enters Public Art Work Agreement for SASCU's 75th Anniversary Legacy Project
Posted On: Oct 28, 2021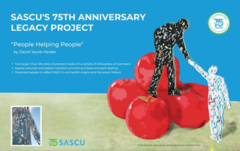 The District of Sicamous will enter a Public Art Work Agreement with SASCU and artist David Jacob Harder for an art installation "People Helping People" at Sicamous Beach Park.
"Council is very excited to work with David Harder and SASCU on this project," said Mayor Terry Rysz. "We are honoured Sicamous has been chosen as the location for the art installation which is a welcomed new feature for the Sicamous Beach Park."
Harder was recently selected as the preferred artist following a Call to Artists for Expression of Interest released by SASCU this spring. The proposed art installation will feature two steel silhouettes comprised of smaller silhouettes that are helping one another on to concrete apples.
In July, SASCU announced Sicamous Beach Park was chosen at the location for the Legacy Art Project. SASCU's intention was for the art installation to be featured in one of its branch communities, and the District was pleased to respond to the request for concept and location suggestions.
District Staff will be working alongside Harder and SASCU to determine the placement and construction of the art installation which has an estimated completion date of spring 2022.
-30-
Background Information: