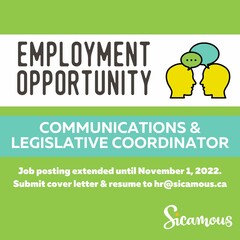 The Communications & Legislative Coordinator job posting has been extended until 4:30 p.m. on November 1, 2022. Please submit your cover letter and resume to Human Resources at hr@sicamous.ca!
Are you a highly effective communicator? The District of Sicamous is looking for a dynamic and skilled individual to fulfill our Communications & Legislative Coordinator position providing support to our Deputy Corporate Officer.
This exempt position is responsible for communications and public relations support by working closely with all departments to deliver public awareness campaigns, civic advertising, media relations, and community engagement in digital and print communication formats. This position also performs a wide range of professional administrative duties under tight deadlines requiring a high level of accuracy, confidentiality and discretion; as well as, assuming corporate administrative duties including preparing Council and Committee agendas and minutes, preparing correspondence, maintaining the corporate records management program, assisting in the administration of the District's obligations under the Freedom of Information and Protection of Privacy Act and other work of complex and confidential nature as required.