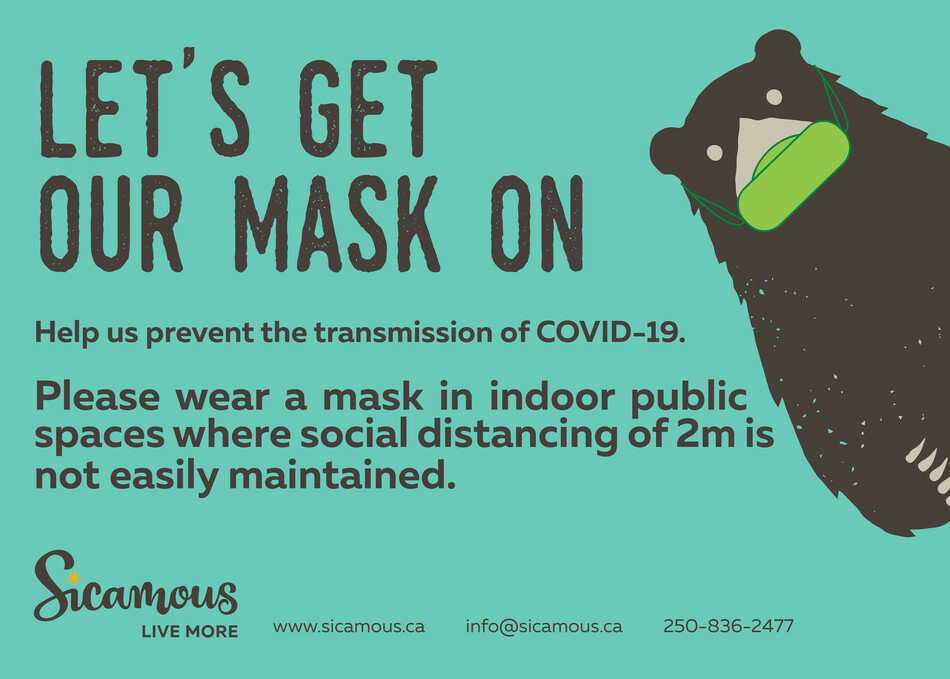 Sicamous is a resilient, resourceful, and robust community that has shone even brighter over the last six months as we have collectively experienced the throes of a global pandemic. Over this period, we have seen everyone rise to the challenge and adapt to the changes in our world. Our community has stood by one another, and found creative, made-in-Sicamous solutions to the problems that have faced us. From groups banding together to provide meals to seniors, to the Sicamous & District Chamber of Commerce supporting all of our local businesses by purchasing hand sanitizer, signs, and more and dispensing them at no direct cost to these businesses in their time of need – we truly have come together.
Recently, both locally and around the world, we have seen the endorsement and greater use of face masks in public spaces. Sicamous Council & Staff wholeheartedly support the wearing of masks in indoor public spaces where social distancing cannot be maintained.
We recognize that some people are not able to wear masks due to pre-existing health conditions, a disability or otherwise, and we ask our community to respect those who do not elect to wear a mask or cannot wear one. While wearing a mask is about protecting those around us, it is not necessary or helpful to police others by condemning them for not wearing a mask. COVID-19 has called upon all of us to find more grace, empathy and patience for one another, and we ask you to continue to do so.
Sicamous has remained a beautiful and welcoming community for people of all walks of life to live more; and through the wearing of face masks, practicing social distancing, washing our hands more frequently, supporting our local businesses and fellow community members, Council & Staff hope to help keep our community this way.
***
Contact:
Amanda Passmore, Communications & Public Affairs Officer
District of Sicamous
T: 250-836-2477
C: 250-517-9414
E: apassmore@sicamous.ca