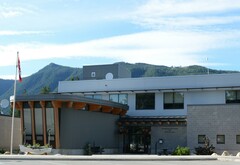 As part of our mutual responsibility to one another, and in alignment with the BC Provincial Health Officer's recent statements, effective Monday November 2, 2020, face masks will be required to enter the District of Sicamous Municipal Hall.
Visitors to Municipal Hall who are unable to provide their own mask will be provided with a disposable mask. Masks will also be required of the public when attending Council and any other public meetings. The mask requirement applies to all Staff in and passing through the reception and lobby area. Guests invited to the second floor for pre-arranged meetings will be required to wear a mask.
For anyone needing assistance but not wanting to enter Municipal Hall in-person, Staff are happy to assist members of the public over the phone or by email. General inquiries may be directed to info@sicamous.ca or by phone at 250-836-2477. Staff contact information is also available at www.sicamous.ca/your-municipality/directory.
We thank our community for continuing to find grace, kindness and compassion in this time of change. 
Contact:
Amanda Passmore, Communications & Public Affairs Officer
T: 250-836-2477 Ext. 2180
C: 250-517-9414
E: apassmore@sicamous.ca